NELLIS TAVERN TIMELINE
A brief outline of dates and people
associated with the Nellis Tavern

Nellis Homestead, c. 1890
1725 - Christian Nellis, Sr. obtained 650 acres on Lot #12 of Harrison Patent.  
           Built log cabin and Ft. Nellis.
1732 - Hans Jurg Nellis born.  He later moved to Herkimer, NY.
1734 - Christian Nellis, Jr. born. He became a grist miller, member of 
           NYS Assembly, Judge in Court of Common for Montgomery County, 
           pvt in Tryon County Militia,  Ranger in Revolutionary War, Battle of Oriskany.
1747 - Nellis Tavern building built by Christian, Sr. - Georgian Period.
1767 - Christian Sr. deeded much of his share (213 acres) of Klock and Nellis Patent 
           to Christian Jr.
1768 - Palatine Church started.
1769 - Johannes Christian Nellis born (John C.).
1771 - Christian Sr. died.

1783 - Christian, Jr. started Tavern before this date.
1785-1790 - Tavern renovated.  (1792, 2nd story was added.)
1801 - Store was added to Tavern.
1807 - Christian, Jr. deeds 100-acre Wiles farm, located east of homestead,  plus 100 acres 
          of homestead along eastern edge abutting Klock property, to John C. Nellis. 
1807 - Christian, Jr. deeds remainder of Homestead (including the Tavern) to Jacob C. Nellis.
1808 - Christian Jr. died. 
1811 - New Turnpike was legally established, from Johnstown, to end at home of John C. Nellis.
1812 - Jacob as captain and John also an officer, served in War of 1812.

1815-1820 - Tavern renovated.  Two-story wing was added to east.
1834 - Railroad bought land from John C. and Jacob C. Nellis.

1835 - This is the date chosen for present restoration - It is post Revolution - Federal Period.

1838 - Fulton County was formed from part of Montgomery County and 
          Town of St. Johnsville was split off of Town of Oppenheim.
1839 - John C. Nellis died after deeding his land to his son, John Nellis.  
           Land later belonged to Peter Fox Nellis (1831-1919) (1868 map of Montgomery County).
1843 - Jacob C. Nellis wills Homestead to children of his son, Jeremiah.
1865 - Jacob C. Nellis, Jeremiah's son, now assumes sole ownership of Homestead from siblings.
1870 - James G. Nellis born to Alpha Nellis. 




Nellis family photo, c. 1880


1887 - Alpha Nellis (descendant of William) assumes ownership of Homestead thru foreclosure.
1899 - Mary Magdalene Nellis assumes ownership of Homestead thru foreclosure.
1903 - Mary Magdalene Nellis wills Homestead to James G. Nellis. 
1945 - Jimmy Nellis died and left Nellis Tavern to his niece, Aleda Mary Nellis Weaver.




Date on photo appears inaccurate


1960's - NYS Department of Transportation condemned building when they 
           prepared to widen NYS Route 5. They evicted Aleda Weaver. (Later rescinded) 
1969 - Donald Tuttle, Dir. of Ft. Plain Museum discovered stenciling in vacant Tavern.
1978 - Palatine Settlement Society formed.
1984 - Elizabeth Bilobrowka donated $1200 for purchase of Nellis Tavern.
	       Palatine Settlement Society granted Provisional Charter from NYSED.
1985 - Palatine Settlement Society bought Nellis Tavern and 8 acres of land.  
          Tavern opened for tours; 112 total membership in PSS, 20 local. 
1987 - Sponnable Cheese House (1810-20) donated and moved to Tavern site.
1988 - Archeological dig over 2 acres.  President - Elizabeth Bilobrowka.  
          (She sent copies of stencils to Mary Maples same year.) 
1989 - PSS received $14,000, State and County grants for renovating Tavern foundation.
1990-1991 - Nellis Tavern placed on State and National Register of Historic Places.
1993-1994 - North façade porch and entrance were finished.  
           Trees and brush cleared east of the Tavern for a larger lawn.
1995 - Tavern refurbished and open for tours. 
2003 - Jim Nellis and Microsoft donated a total of $20,000 for renovations.  
           The south entrance and porch were constructed, among other improvements.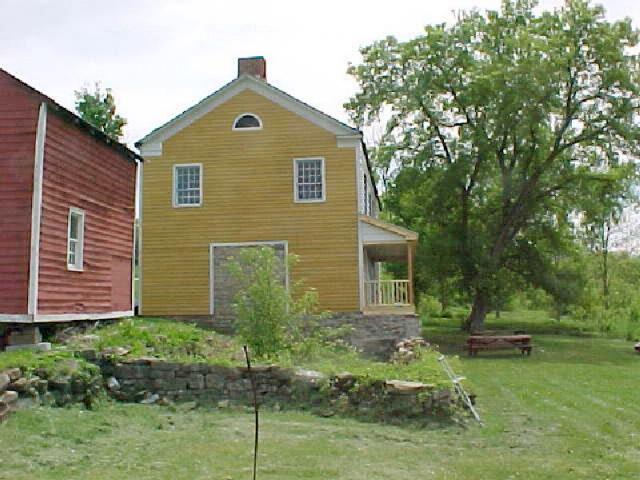 Nellis Tavern, c. 2005
NOTE: Information contained in this timeline is accurate according to the information available to the Society 
as of this date. When new information is discovered, the timeline will be revised accordingly.
Any corrections you may find should be sent to the Society, PO Box 183, St. Johnsville, NY 13452.
(This page last updated on February 15, 2011)
Click "HERE" to return to the main Page